Bluey's Clown Car, FIRE 1
Clown Bluey & Co now offer two Arena Acts:
Clown Bluey's Crazy Fire Engine Show

Outside Clown Arena Act or Circus Big Top Clown Arena Act
Clown Bluey's Clown Car is a Fire Engine! With Conk the Clown playing Flossie Fleabag, hairy Fire Dog 3rd Class (Ruff Crufts), together with audience volunteers, Chief Fire Officer Bluey demonstrates the latest fire-fighting techniques, using the BIGGEST Fire Engine in the world, his two metre (6'6″) half-sized 1930′s Model T Ford Fire Engine, "FIRE 1"! Children and Adults love this 25 minute Outside Clown Arena Act where Flossie Fleabag outwits Fire Chief Clown Bluey at every turn. Flossie Fleabag barges in determined to be a firefighter and, of course, helps to mess everything up and in the process the arrogant Chief Fire Officer Bluey gets extremely wet!
This FUN arena act, with lots of audience participation, clown slapstick and water, is ideal for small village green-sized fêtes and fayres, school fêtes, corporate and business events and any smaller outside venue. There are no frightening pyrotechnic bangs that might startle or frighten children in the Act, only lots of funny water gags.
The Bonkers Fire Brigade
Chief Fire Officer Bluey has signed up a new Recruit: FF Conk, who is a little "slow" The Chief Officer is constantly thwarted by the 'newby', whose clumsiness knows no bounds! Great new fun act.
You can book either show or indeed both acts can be performed during the same day, giving bookers and the audiences two different shows, instead of repeating the same show.
Ideally, a circus Big Top-sized 15-20 metre arena is all the room required by these magical and funny performances. Children and adults just love it! As full-time professionals, all Clown Bluey's Acts are fully covered by comprehensive £10 Million public liability insurance.
[Price Guide: 2 x 25 minutes – £850.00 + fuel and overnight accommodation if long travel distance warrants an overnight]
---
Fire Quackers Show
with Clown Bluey's Circus
For Circus Big Top or small circus-ring sized outside arena.
This is a 15 minute Circus Fire Engine Clown Car Arena Act, performed with Conk the Clown as the bumbling Auguste Clown, forever getting Fire Chief Officer Bluey's instructions and orders wrong. Needless to say, mayhem reigns with both clowns receiving lots of water during this riotous clown car arena act: ideal for the circus ring under the Big Top, or small outside venues where a small area suitable for an arena act can be marked out.
[Price Guide: 15 minutes – £ negotiable]
Clown Bluey's Clown Car "Fire Quackers" Circus Act was part of the Circus Big Top Show in Utrecht, Holland
---
Mix and Mingle – Meet and Greet
Clown Bluey is also available solo with his excellent Car "FIRE 1" for shopping and corporate functions and promotions, for mix and mingling, and meet and greet entertainment (provided it is outside because it has a petrol engine).
---
Parades
'FIRE 1', Clown Bluey's amazing Fire Engine, is also great for taking part in Parades. If you have a Parade in your Programme of Events, why not add a little special something and book Clown Bluey's super CLOWN CAR?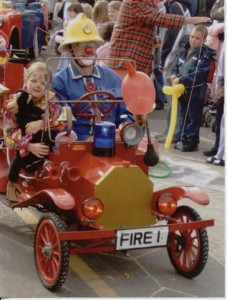 Clown Bluey and his CLOWN CAR "FIRE 1" look forward to entertaining you at your event!