A Clown for all Reasons
Clown Bluey's Magic Children's Clown Show
Ideal for indoor locations. Lots of slapstick clowning, magic that goes wrong, balloon animals and music, including a musical saw. Ideal for children's parties or that special family occasion. 1 hour (show) or 2 hours (show plus organised children's games, including parachute games if venue large enough).
[Price Guide: 1-2 hours – £250]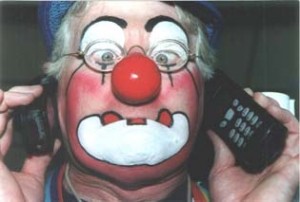 ---
Clown Bluey's Brilliant Bubble Show
Indoor or outside providing the weather is calm. Children have the opportunity to play with lots of bubble equipment, including being shown how to use wands that produce bubbles up to 15' long! (Did you know the world record is in excess of 55 feet?!) Also, see a child inside a bubble! Best outside on grass or a non-slippery surface. Subject to calm weather conditions.
[Price Guide: £150 – £250]
---
Musical Clown Bluey
Clown Bluey can play around with an alto sax, musical saw, banjo and a 21-note Trueman Hand-Operated Reed Organ. Children can join in with an assortment of percussion instruments, whistles and horns: not for the faint-hearted!
[Price Guide: £150 – £250]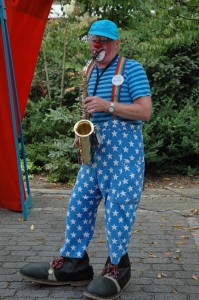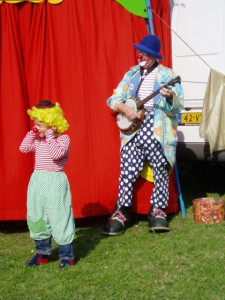 Clown Bluey plays a musical saw in Kosovo, sax in Holland, banjo in Kosovo, and Trueman Organ on the Isle of Wight.
---
B.B., Balloon Sculptor Extraordinaire
For entertaining at Tables in restaurants and similar venues where a clown may be considered not to be appropriate, but an expert balloon twister is! Ideal for Corporate Dinners, Private Party Dinners, Weddings, Christenings and Banquets. Make your event really special and book B.B.! He will create amazing balloon creations, table centre pieces and crazy hats in front of your very eyes in a matter of seconds.
[Price Guide: £200 – £250]
---
Face Painting by Flossie Clown
All equipment supplied, including if required a 4 metre x 3 metre marquee tent. Additional Face Painters available for large events.
[Price Guide: £175 – £250]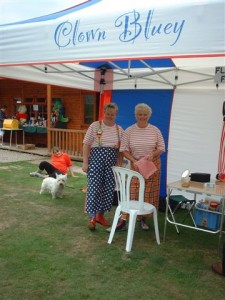 ---
Pulsating Clown Parachute Games
A great way to make your outdoor party go with a swing or as an alternative Clown Arena Act. Children love playing games with a parachute, but not suitable for teenies under four years of age. Clown Bluey and Flossie Clown have parachutes that can take up to 150 children!
[Price Guide: £200 – £250]
---
Mix & Mingle / Al Fresco Clowning / Street Clowning / Shop & Event Promotions / Corporate & Business Entertainment / Parades
Clown Bluey and Flossie Clown can supply various clown characters for work in the street or shopping malls and events, as promotion clowns or as Al Fresco Entertainment Clowns.
Characters can include:
P.C. Clown Bluey: fat policeman Clown, with or without a mini police motor cycle or comedy bicycle.
Legs Clown Bluey: stilts from 2' to 12'.
Clown Bluey: Auguste Clown – balloons, circus skills, magic, music [sax, musical saw, banjo, 20 Note Trueman Organ], puppets, clown shows, clown bubble shows etc.
Fireman Clown Bluey: 6'6″ Model T Ford Fire Engine – petrol engine, so open-air only or under Big Top.
Chef Bluey: Great for Parades, Restaurants, Barbecues.
Pirate Bluey: "Ahoy there Shipmates – standby to repel boarders!"
B.B. (non clown): Balloon Sculpturer & Close-up Magic.
Flossie Clown: Auguste – on or off stilts, balloons, puppets, 20 Note Trueman Hand Organ, Face Painter.
[Price Guide: £200 – £250]
---
Clown Bluey & Conk the Clown
This exciting and humorous clown duo provide lots of laughter and giggles with a variety of Clown Acts including slapstick, music and downright silliness – from 10 minutes to one and half hour stage shows, and many funny Mix and Mingle clown characters, including bumptious clown Policemen and Zany clown Waiters! Ideal for Stage spots / shows / Corporate Evenings / outside events / for all your entertainment needs.
[Price Guide: £550]
If you need a good laugh at your event – book Clown Bluey & Conk the Clown today!